Sondex are a premium supplier of Plate Heat Exchangers. 
We have a long standing and close relationship with Sondex, having designed and supplied hundreds of their Plate Heat Exchangers across NZ and the world. We utilise their plates within our own packages or supply to clients as stand alone units.
Their range includes traditional plate and frame units, brazed plates, all welded shell & plates and free-flow plates. Pressure Worx offer new units, but also support existing clients and old Flotech clients with spare parts and service for the PHE's.
More information on the Sondex product line is available in their brochure below.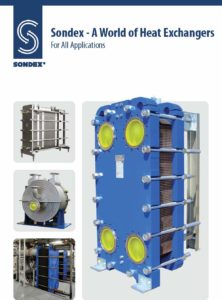 To find out more at the Sondex website click here.